Serval Kitten Care
Page 10

Photos are not always available, not all of my animals are produced on site or are even being housed on site. While taking a simple picture seems standard fare, I will have breeders that either are not technologically inclined enough to e-mail a photo or just plain don't want to bother with it. Once these cats are in hand I have no problem with taking a quick photo myself and e-mailing to buyers a week or so before the cat goes out.
Bare with me on this, with the nature of some of the facilities it is something that I must tolerate and make due with. I will not have any breeder photograph a Serval kitten until the kitten is old enough to exhibit the Serval traits, such as large ears, open eyes, etc. It is pointless to have them take a photo of the Serval litter if they still look like mice, versus Serval. Usually around 4-6 weeks it is safe to take a photo, which I pass on to the buyers once the photo is taken.

Recent batch of Serval kittens playing with Grandpa and child.
What you get when you purchase your new Serval kitten:
Health Certificate and Crate with any shipped Serval
Micro chipped for $30 extra (you will then need to pay avid $15 to have the chip assigned to you)
Baby Blanket
New Batch of Serval kittens are available now!
Serval kittens for Sale at $4000 with 50% deposit due to hold any kitten. References are available for those who may be weary. And of course, I am USDA licensed. Serval litters are available year round, but they go fast!

Serval Waiting List:
Bottle Raised Serval kittens year round! To be put in on the waiting list, a $500 deposit is required (an invoice is provided with terms of sale) to be put in for any unborn Serval kitten. Once the litter is born and I know if there will be a kitten available for you the rest of the difference of half down is due. The kittens will be ready to ship to their new homes or be picked up at 10 weeks of age. Serval kittens are $4000 each.
Contact Ken Walker of Ken's Exotics: due to too many people with lack of common sense that call me at 2am, contact me via email only.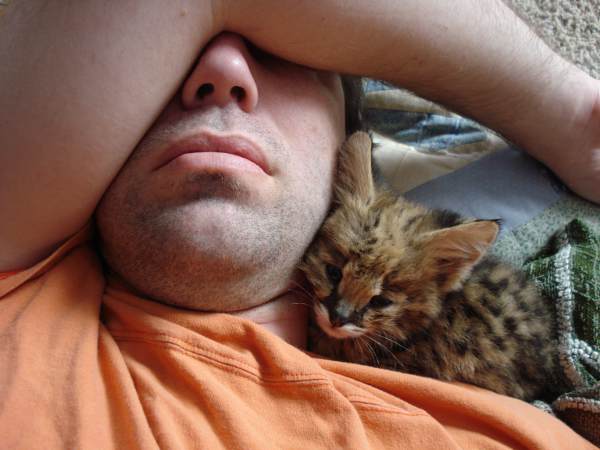 Serval Care Page 1 / Serval Care Page 2 / Serval Care Page 3 / Serval Care Page 4 /
Serval Care Page 5 / Serval Care Page 6 / Serval Care Page 7 / Serval Care Page 8 / Serval Care Page 9 / Serval Care Page 10 /Serval Links