Black Backed Jackals (Canis mesomelas) and Golden Jackals
Price: $5000 per pair
I have an unrelated pair of "parent raised' Black Backed Jackals. Fresh imports bring new bloodlines for breeding programs. These interesting animals have a fox like appearance in a medium sized body. These are not being sold as an exotic pet, these are meant to be sold to as breeders or display.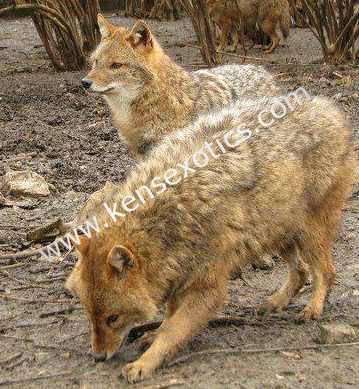 Golden Jackals: The Golden Jackal is far more obscure than the Black Backed Jackal, having a more wolf like look to them, I'm not aware of any being registered with any american zoo's. You asked for them, here they are... one time only.
Contact Ken's Exotics at:
Phone: due to too many people with lack of common sense that call me at 2am, contact me via email only at : EMAIL ME AND I WILL PROVIDE MY PHONE NUMBER IN MY EMAIL.
or
Email for info on our animals
<---------- Back to Ken's Exotics Exotic Animal Price list