Striped Hyena (Hyaena hyaena) / Spotted Hyena
Date: 6/17/2009
We are offering unrelated, bottle raised 1.1 pairs and single Striped Hyena pups for sale. I offer all ages and temperaments, bottle raised and parent raised of both Striped and Spotted Hyena. Most are captive born, all are bottle raised unless otherwise specified.
These are not for people who are looking for a house pet, but for people that understand the dangers, risks of owning of a large carnivore and is capable of housing the safely. Great for breeding program and/or education outreach programs as well as USDA licensed breeders.

Please check with your state DNR, Country Courthouse and City Hall for laws that may prevent you from owning an animal such as this.
Price: $4500 per Striped or Spotted Hyena.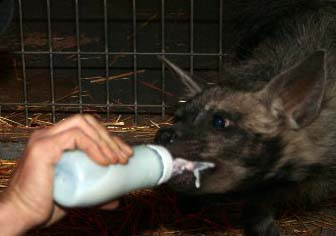 Striped Hyena guzzling his bottle.
Contact Ken's Exotics at:
Phone: 217-531-8921
or
Email Ken about Exotic Animals or Pets!